Ada tiga acara stand up comedy show berbayar yang sudah aku tonton sampai hari ini. Bhineka Tunggal Tawa dari Pandji, From Tiny To Funny dari Adriandhy dan yang terakhir adalah Stand Up Comedy Provocative Proactive. Yang terakhir adalah yang paling sakit. Kamis minggu kemarin, 5 comic membawakan materi materi tajam seputar politik, agama dan kritik sosial. Sama sekali bukan acara untuk yang gampang tersinggung dan berjantung lemah.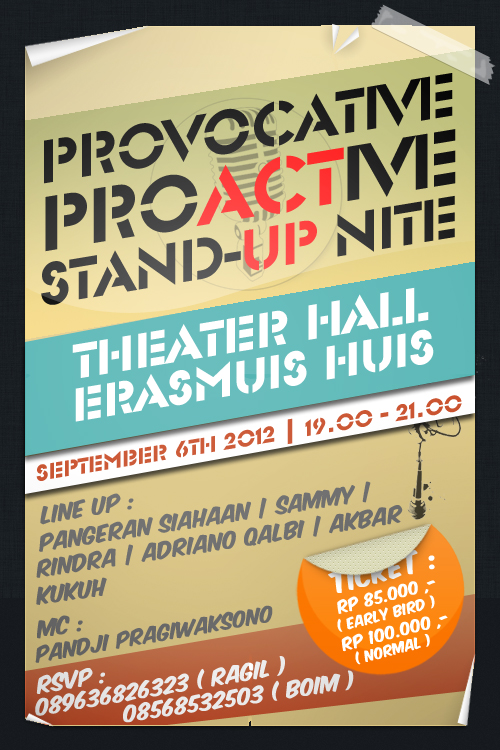 Dengan misi mengajak anak anak muda Indonesia untuk melek politik, line up stand up PP terdiri dari 5 comic : Kukuh, Sammy, Akbar, Pange, Adriano Qolbi dan Rindra. Dari kelima tersebut, hanya Akbar dan Sammy saja yang "mainstream" alias sering terlihat di TV. Ada alasan kuat untuk itu, materi mereka terlalu hardcore untuk ditayangkan tanpa di kepras KPI.
Pandji membuka malam penuh provokasi dengan mengingatkan kembali audiens untuk berpikir terbuka sebari menunjukkan pintu keluar just in case FPI datang. Foreplay brillian, mendengar kalimat itu aku tahu shit is about to get real. Sammy a.k.a notaslimboy membuka malam dengan menampilkan, coba tebak, cuplikan ayat injil. Tai suci, ini baru pembukaan dan aku sudah mengeluarkan anjing pertama dari mulutku. Tidak terlalu eksplosif tapi tajam, sammy membuka jalan mulus untuk comic comic selanjutnya.
Kukuh adalah comic beraura geek dengan bit bit cerdas ala Gilbhas finalis Stand Up KompasTv. Aneh, absurd dan menghibur. Comic selanjutnya adalah Akbar, runner up SUCI pertama KompasTV dan juga veteran komedi dari Surabaya. Menurutku tiga komik pertama ini masih bisa diterima untuk populasi pada umumnya, kritik dan sindiran masih dalam level nakal. Tiga komik selanjutnya however, membuat a whole new level untuk sebuah pengalaman tersinggung. Komedi berdiri ofensif!.
Pangeran Siahaan alias Pange mengingatkan audiens kepada malam dimana Munir terbunuh dengan melakukan toast jus jeruk. Statemen politik  cantik dan sekaligus toast paling jantan yang bisa dilakukan tanpa minuman beralkohol. Sedikit bisa ditebak, pange yang juga pundit sepakbola tersohor di twitter mengkaitkan bola dengan agama. Menyebut statemen iman kepada Maradona dan lionel messi sebagai juru selamat, sarcasm and ingenuity fresh from Pange. Adriano Qalbi naik selanjutnya, menurutku comic ini adalah Chris Rocknya Indonesia. Kritik sosial yang brutally honest dan in your face menjadi ciri khas dari comic ini. Faisal Basri, kandidat gubernur DKI independen yang pada malam itu duduk dibelakangku, tidak luput dari bit adriano yang tajam.
Klo lo semua gak baca blognya Pandji, mana mungkin sih lo pilih Faisal Basri
Momen berharga ini membuatku ngidam akan comic yang membawakan materi kumis didepan ahlinya kumis.
Tidak panjang yang bisa aku tulis tentang Rindradana, comic penutup malem ini. Let me explain, materinya sangat explisit untuk menuliskannya kembalipun aku tidak cukup nyali. Ini sedikit cuplikan, mind you ini yang paling sopan.
Gue sebel dengan anak anak smp di kemang yang suka pake pakaian minim. Gue pengen kasih nasehat, dek dek klo jadi pecun ada waktunya
Epik!. I wonder what happen if this guy insult me, i will scarred for life. A true Jimmy Carr / Daniel Tosh  moment.
Stand Up PP kemarin membuat harga tiket 100 ribu terasa murah. Well, mahal sih kalau kamu termasuk kaum yang tersinggung malam itu. I love stand up comedy, perkembangan positif scene  ini di Indonesia berarti akan ada banyak acara stand up untuk ditonton. Stand Up Comedy PP mendefinisikan suatu niche baru stand up comedy, kritis, tajam dan ofensif. Genre defining moment, stand up yang notabener komedi yang tidak pop nah ini lebih hipster lagi. Tidak semua suka memang, tapi tertawa sambil tertampar tentunya membuat pesan yang disampaikan masuk, yes ?
Aku kutip satu pernyataan Adriano Qalbi yang cukup sahih sebagai penutup tulisan ini. Seperti layaknya musik, stand up comedy yang bagus memang yang bukan di televisi.